Nera
Number of beds in the apartment:3
Size of apartments:33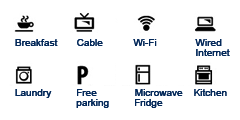 Nera apartment is an ideal accommodation for up to five people. Same as in  Dea apartment, bedroom interior is very modern but spacious. Bedroom has three beds and guests can accommodate here or in a living room. Like other two apartments, Uma has air conditioning, LCD TV with satellite and internet access.
Kitchen is new and fully equipped with stove and refrigerator. Apartment has a top quality bathroom and there is a working space ideal for business people. Apartment size is 48 square meters and it is ideal for a group of people but also for a single visitor that wants to enjoy the comfort and spaciousness of accommodation.
Interior is attractive and modern. Furniture and decoration are mainly orange, red, white and black and those colors make our accommodation warm and inviting. Our guests can also use our garden and they can park their vehicles at a nearby free parking.
We also offer breakfast optionally.
Nera apartment is an ideal accommodation for business people, tourists of families that want to relax and have a good time in Osijek. It also fits for a group of people that are ready to have fun and adventures in our beautiful town. Accommodation has all advantages of an apartment for a budget price!
Subscribe
Budite uvijek obavješteni o svim novostima, ponudama i akcijama Poštić Apartmana.
Contact
Kardinala Alozija Stepinca 38a,
Osijek, 31000
++385(0)98-373-895
postic@os-apartmani.hr